With the rapid expansion of the our country industrial coatings industry, stricter environmental protection policies are being implemented. Not only has demand increased for environmentally-friendly coatings, manufacturers are also facing higher costs for raw materials and labor.
Seeking an innovative and efficient manufacturing solution, one leading coatings company contacted Dingcoma Corporation to optimize the screening of fine powder to remove contaminants caused by material that has polymerized during upstream processes. During this process, only powder of the correct particle size is passed through to the filling line, but manufacturers can run into issues with mesh blinding where finer powder can end up blocking the mesh screen.
One way coatings manufacturers often attempt to overcome this problem is through the use of nylon tapping brush or discs to assist with powder screening. However, this can lead to mesh damage and potentially contaminate the powder coatings as they wear, potentially harming the quality of the final product.
As a solution, the manufacturer implemented Dingcoma Corporation Deblinding System into its production line. Through an ultrasonic frequency that breaks down surface tension, the Ultrasonic Deblinding System eliminated mesh blinding while also allowing particle screening down to 50 microns. Production efficiency was further increased by reducing downtime needed to clean the mesh while minimizing the loss of fine powder.
We also allowed for significant improvements in sieving accuracy, capacity, noise levels and upgradeability compared with traditional vibrating screen. This technology not only ensured consistent product quality, but improved production capacity while keeping costs low.
After the test machine test, the customer chooses our 1.5m diameter ultrasonic vibrating sieve to process the titanium dioxide, mesh size is 325 mesh, output reaches 1.5 tons per hour.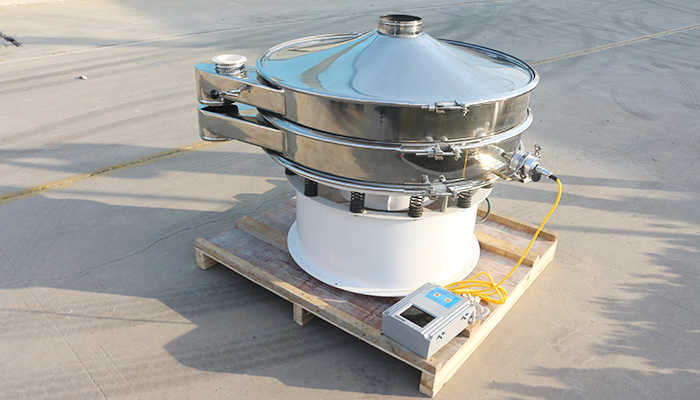 Titanium dioxide is a powdery material, which has a certain adsorption force. It is easy to cause agglomeration and clumping during the screening process to cause screening blockage problems. The ultrasonic vibrating sieve is equipped with an ultrasonic transducer to speed up agglomeration. High static electricity, high precision, high density, light specific gravity, separation of adsorbed materials, there by increasing the sieve weight, reducing the number of large particles, decomposing adhered substances, reducing the on-screen material, and increasing the screen passing rate by compared with the traditional rotary vibrating sieve 50%-400%.
The ultrasonic transducer control system of the ultrasonic vibrating sieve can convert 220V, 50HZ electric energy into 18HZ high-frequency electric energy, so that the screen can reach high frequency vibration during the screening process to keep the material on the screen suspended. So as to achieve the purpose of high-efficiency screening and cleaning.
The customer was satisfied with the screening effect of titanium dioxide, and the customer subsequently purchased one-meter diameter ultrasonic separator to sieve 70 mesh iron dioxide, with an output of 1 ton per hour. We are very proud and proud to be able to solve the screening problem for a well-known Chinese paint group company.
More information about the wheat flour sieve machine,please contact us.